NFT Marketplace Development
Launch your very own custom marketplace by leveraging out-of-the-box service for NFT marketplace development. We help you build creative, appealing, scalable, and profitable NFT. Build cutting-edge NFT marketplace software for your digital items and dive in towards the crypto world with the help of our blockchain experts. Kick-start your business, with minimum effort and time to create an NFT of your own, kick-start your Billion Dollar project with us.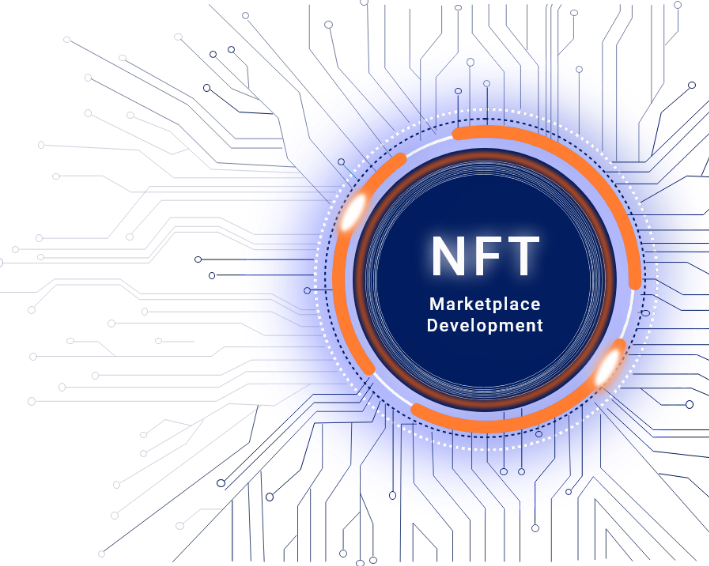 Customized NFT Marketplace Development
NFT allow digital creators to represent, sell, and trade their work through a marketplace that is accessible to global users. It allows users to purchase some of the most valuable digital assets. Get assistance from the experts for world-class NFT marketplace development solutions.
Custom NFT
We have an expert team of developers who are here to help you with personalized NFT marketplace development solutions based on your business requirements. Our team of developers are experienced in providing custom NFT marketplace development solutions for a wide array of niches and business. Our custom NFT consist of NFT token development, integrated wallet, various bidding options, and personalized user dashboards.
NFT Marketplace Website Development
We help you in designing and developing creative websites for your business. A website that serves as a core to buy, sell, and bid Non-Fungible Tokens. Our team of designers and developers have experience in creating stunning websites. We build NFT marketplace websites that are user-friendly and offer a great user experience.
White-Label NFT Marketplace
Get our ready-to-launch white label marketplace development solutions that are suitable for a wide array of business and industry requirements with faster deployment, and top-notch solutions to build NFT trading platforms. We have on-board NFT marketplace clone development for music, gaming, digital artwork, sports, and so on.
NFT Marketplace Wallet Development
Our NFT wallet development are designed and developed to help you with the storage of NFTs, which includes audios, videos, and photos, in a decentralized way on IPFS. We build exclusive NFT wallets where you can deposit and store your NFTs. Depending upon your business requirements we can help you with the development of NFT wallets for your marketplace.
NFT Smart Contract Development
We help you build smart contracts for your NFT trading platforms which is one of the most critical factors for secure and authenticated trading. Our smart contract development take over the traditional financial system with self-executing pre-programmed smart contracts. Thus there is no need for central authorities or intermediaries to control the transactions.
NFT Smart Contract Audit
Smart contracts need to be written very carefully so that only considered action is executable. Our NFT smart contract audit make sure that smart contracts for NFTs work efficiently without any error. Our smart contract audit identify the issues in the smart contract and at the same time suggest for them.
NFT Marketplace Design & Development
Our team has in-depth knowledge of ERC-721, and ERC-1155 standards, along with other major ones, smart contracts, and IPFS protocol. We have a team of NFT designers, who are experienced in building client-centered NFT marketplace, where participants can create and sell NFTs. Besides, our developers provide world-class token creation or your marketplace.
NFT Marketplace App Development
You can find the best NFT application development, which makes it easier for the participants to buy, sell, and bid NFT across different platforms. We have a team of skilled NFT experts who design and develop robust, scalable, and feature-rich app development.
Metaverse NFT Marketplace
Make it easier for the users to buy, sell, or trade with exclusively tailored marketplaces built with Metaverse NFT properties. Make use of our service to provide your users with an engaging and interactive user experience. Our skilled developers can help you build a perfect amalgamation of the Metaverse concept with NFT use cases to build an out-of-the-box metaverse marketplace.
Features in the NFT Marketplace Development
For any NFT to function well, and be a leader in the market the below-mentioned features are a must-have. Our team incorporates these features along with the ones required by your project.
Storefront
The storefront feature is one of the most essential parts of the marketplace. This is a prominent feature that offers complete details about the commodities that the user wants to buy. The storefront feature also allows the users to gain information about the owners, bids, and other crucial details about the Nom-Fungible Tokens.
Ratings
The NFT rating feature allows users to rate digital assets. Thus the users can easily find and view the digital products they are searching for to buy, and at the same time makes it easier for the users to make decisions on the most beneficial digital assets in the marketplace based on their requirements.
Custom Digital Wallets
A digital wallet lets the users save, store, and manage their tokens and digital collectibles. It is necessary to integrate digital wallets into the NFT marketplace. Our digital wallets allow the users to store, send, and manage the cryptocurrencies and the NFTs with the integration of the digital wallet into the marketplace.
Listings
An artist can mint their digital artwork by listing the assets on the NFT trading platform. Thus the investors can easily look for digital assets and put forth bids on them. We make it convenient for the artists to compile and submit the digital assets. You can find clear details about the NFT listings made on the marketplace platform.
Search Filter
Searching a specific NFT or digital artwork can be made easy with advanced search filter options. The users can apply the search filter and they will be shown straight out the assets they are looking for and want to place their bids on. A seamless search option helps in providing a good user experience.
Filter Option
Our NFT marketplace development can help you integrate a filter option that allows the users to easily navigate the website, especially when there are numerous digital collectibles listed. Thus the users can easily sort out the search results based on their needs. Easily navigate the browse elements by category and payment method, selection, listing status, or as needed.
Auctions & Bids
Auction is certainly one of the most important features of an NFT marketplace. It provides bidders with a quick and easy-to-use tamper-proof platform to trade NFTs. The audition watch list provides users to check the up-to-date status of the bids.
Trade History
Through this feature, the users can check through the list of each NFT trading platform history that has taken place on the platform by using this feature. Thus the users can find important details for trading efficiency like trading history, price, date, seller information, and so on.
High-Points that Focus on Our NFT Marketplace Software
Our blockchain experts provide businesses and industries with all niches exceptional services on NFT marketplace development with the help of different blockchain networks. We can help you with NFT marketplace development from the scratch, or pre-made , both of which include highlights that focus on the NFT.
Unique UI/UX Design
Our NFT marketplace development provide a seamless buying, selling and trading process, with essential features like search, rating, manage listing, bidding, etc. We create an intuitive NFT portal for your marketplace with our creative UI/UX design.
Storefront Accessibility & Reliability
It is important to offer exceptional storefront facilities that can manage numerous users, operators, and transactions seamlessly. User-friendly and intuitive storefront designs for minting.
Seamless Crypto Payment Options
Our NFT Marketplace development bring in well-audited smart contracts for proper minting and NFT trading platform We audit smart contracts in a way that offers a flawless way for the users to buy or sell through various payment options like cryptocurrencies, debit, and credit cards.
AML/KYC Compliance
To avoid money laundering, allow to track customer transactions, and be able to generate reports on doubtful, and unauthenticated transactions. Make sure to verify the identity of the users with strict KYC/AML to avoid fraudulent activities.
Cybersecurity
Maintaining high levels of cybersecurity is a must to avoid data thefts and money laundering problems. By launching a platform that is to take up millions of dollars, keeping the platform safe is a must and we got it all covered for you.
Efficient Admin Panel
Our focus on flawless integration with the backend office with the integration of CRM, ERP, and third-party servers to make it easy to manage the platform and automate internal operations.
Explore the Crypto-Space & Start with the NFT Project Today!
How Does Our ROI-Generating NFT Marketplace Function?
As intimidating as it may sound, the process to create, buy, and sell NFTs is quick and easy. No matter which blockchain network you choose, the workflow functions in the same ways as mentioned below:
How to Create an NFT?
You can create your own NFT, in any form whether it is GIF or an image, the process is pretty simple. The NFT artwork can also be created using digital collectibles. Notably, every blockchain has its own NFT token standard, compatible wallet and marketplace. One you decide on the blockchain and connect the crypto wallet to the platform, you can easily upload your chosen file and turn it into NFT.
How to Sell NFT?
In order to sell NFTs in the marketplace you need to sell the NFTs you need to find them in your collection. Simply click on them and find the sell button. Now, you will be directed to the pricing page where you can define the conditions for selling the NFT, whether you can run an auction or sell it at a fixed price. While the NFT creators can earn from the royalties each time the digital collectible is sold to a new person.
How to Buy NFTs?
Crypto traders can buy the Non Fungible Tokens on popular NFT marketplaces like Rarible, OpenSea, BakerSwap etc. Choose the marketplace and connect the wallet to it. Make sure you have the accepted crypto for the marketplace to pay the gas fees beforehand.
Our Ready to Deploy NFT Marketplace Clone
We offer pre-made NFT marketplace scripts based on your development requirements. Using these NFT marketplace clone development we help businesses establish a unique position in the market and also raise awareness about the brand. We offer customized white label NFT marketplace development solutions for businesses who want to deploy a highly revolutionary NFT marketplace into the marketplace in real-time.
Rarible
OpenSea
SuperRare
Foundation
Axie Infinity
Nifty Gateway
Binance NFT
Stash
BAYC
NBA Top Shot
Veve
Solana
NFT Token Standards We Follow to Deploy?
There are different token standards followed for the development of Non-Fungible Tokens on Ethereum-based blockchain. These ERC standards set certain functions for token development, which can avail from our marketplace NFT and interrelate with the smart contracts expectedly. Here are some of the common ERC standards we work with:
ERC-223
ERC-223 is a subset of ERC20 which ensures the tokens are securely transferred to the crypto wallet with ERC-223 standard smart contract.
ERC-721
ERC-721 is a token standard that provides complete ownership of the NFT. This is a more complex token standard than ERC-20, and provides more flexibility and functionally to create tailor-made smart contracts.
ERC-998
Erc-998 is an extension of the ERC-721 token standard that allows the merging of multiple NFTs, and effectively managing them. A non-fungible token that implements ERC-721 also implements ERC-998.
ERC-1155
The ERC-1155 indicates a smart contract interface that can showcase any number of fungible types. It allows the effective transfer of fungible in a single transaction.
Our Tailor-Made Custom NFT Marketplace For You
Influencer NFT Marketplace Development
The influencers play an important role in the NFT marketplace. They have a powerful impact on the crypto market by bringing in worthy products to global users. One of the major crypto pioneers has emerged from the attention of the influencers. Influencer marketing plays a crucial role in the marketplace. NFT marketplace for influencers has the best possibilities for making a great impression in the market as they have better possibilities of reaching out to more people.
Multi Chain NFT Marketplace
We provide feature-rich NFT marketplace development solutions for businesses of all kinds and industries with different spheres. Developing and launching an NFT marketplace across multi chains platforms can get the attention of the investors as they can trade NFTs on various platforms built on different blockchain networks.
Multiverse NFT Marketplace Development
Multiverse brings a whole new opportunity into the crypto world, where one can provide an immersive experience of the metaverse to the users. The multiverse deals with providing a connection between the real world and the virtual world. Develop an amazing multiverse NFT marketplace platform with us.
NFT Marketplace Development for Different Industries
We provide exceptional NFT marketplace development as needed by your business. We offer different NFT platform development that focus on different digital assets for different industry sectors.
NFT Collectibles Marketplace
Allow your marketplace users to earn in cryptocurrency by trading a wide range of collectibles. We help you develop digital collectibles, also an entire NFT trading platform.
NFT Marketplace for Celebrities
Celebrities need to stay in the limelight, and what better way than the most hyped thing at the moment NFTs. We offer website development for celebrities based upon NFTs. Likewise on an NFT marketplace for celebrities across the world can come together and trade their NFTs in a wide range of categories. Easily launch a similar NFT site for celebrities to seamlessly reach out to the buyers.
NFT Art Marketplace
Our team of experts can help you with creating a custom marketplace specifically designed for artists. Customization can be done based on your requirements and the features required.
Media NFT Marketplace
NFT marketplace in media offers great solutions to combat fraudulent and money laundering including copyright issues. It provides creators with ownership for their work while also generating income from it. Thus creators can own their content by tokenising it, and claim copyright for the same.
NFT Marketplace for Restaurant
Now you can launch your own NFT marketplace for your restaurant and make income from regular services from it. This requires the users to pay through cryptocurrencies and incentivises them back in the form of NFTs.
Metaverse NFT Marketplace
Buy, sell, or trade on a personalised marketplace for metaverse NFT properties. Allow your users to experience an engaging and interactive experience on the marketplace. Provide your users with an immersive experience of virtual reality.
NFT Marketplace for Real Estate
It is used for tokenizing the virtual land and real-world properties which can be listed on the marketplace that allows potential investors to bid on the properties. Our team of programmers help you launch a real-estate-related NFT trading platform.
NFT Marketplace for Photography
Now the users can also tokenize and mint their photographs on the marketplace for NFTs. Anyone across the globe can view these photographs, interested collectors can view and buy them on the marketplace.
Sports NFT Marketplace
Sports NFT digital assets are one of the hottest bids in the marketplace thanks to the sports fans across the globe. Launch your sports NFT marketplace with us and engage with millions of sports fans across the world.
Digital Domain Marketplace
Most of the users want to have a unique domain name for their business in order to stay unique. Through the digital domain marketplace the businesses can mint their domains and earn from it.
Gaming NFT Marketplace
Our team of experts help you build next-gen video games, not just for the fun of gaming, but to play and earn from it. Utilise our NFT gaming marketplace development. Our developers can build a wide array of games on the blockchain platform as needed.
Fashion NFT Marketplace
Launch digital fashion and digital collectibles on your NFT marketplace with a great user experience. Now you can buy fashion, clothes and accessories without having to visit the stores.
NFT Marketplace for Music
NFTs provide a way for musicians to release independent music virtually, attain ownership of it, and generate income from it. We help you create an NFT music marketplace to connect with music composers, producers, and your fans on a single platform.
Marketplace for NFT Content Creators
Any type of content can be tokenized and sold as on the marketplace. This allows content creators to not just own their piece of work, but also gain ownership for it without having to involve an intermediary or third parties.
Why Choose Us for NFT Marketplace Development?
Blockchainatic strives to build an NFT marketplace with exceptional features, great functionalities, and an improved user interface to help you build a unique marketplace. And what is even better is that the marketplace can be tailor-made based on your NFT marketplace platform requirements, which offers a great NFT trading platform and experience. Our blockchain development team has gained expertise in NFT marketplace development solutions and building a reliable NFT trading platform. As a leading platform, our team helps you from the start to the end of the NFT project to ensure complete guidance and support are given. We have a dedicated team to deploy seamless NFT platforms and software for our clients and provide them with in-depth guidance in boosting their NFT project growth. We strive to make our clients front-runners in their respective fields.
NFT & Blockchain Experts
Agile Development Process
Dedicated Development Team
Globally Recognized
End-to-End NFT Marketplace
State-of-Art Tech Stacks
Top-Notch Quality Standards
Frequently Asked Question
Q. What is the NFT marketplace?
The NFT marketplace is dedicated to the launch of the Non-Fungible Tokens marketplace. Our NFT marketplace development team is dedicated to creating a marketplace for NFTs where users can buy, sell, or trade NFTs.
Q. What does it mean by NFT marketplace development?
NFT marketplace development refers to the phases for creating an efficient marketplace for NFTs. It can be used in wide spheres of industries like gaming, sports, music, and real estate. It helps investors in valuable trading to the NFTs that are the digital collectibles..
Q. How much time will it take to create an NFT marketplace?
Once you associate with our team, we will start creating the NFT marketplace right away. However, the exact time depends upon your NFT project requirements. However, our expert team makes sure to deliver the project on time no matter what.
Q. How can you launch your NFT marketplace?
First of all, you need to look up the right audience, and developers who are experts in handling NFT projects. The team can help you smoothly launch the NFT marketplace based on your requirements.
Q. How can I create my own NFT marketplace?
Our team can help and assist you with the design and development of the NFT marketplace based on your innovative ideas, features, and functionalities needed that can help grab the attention of the users.
Q. What blockchain platforms do you use for creating NFT marketplace?
We can develop an NFT marketplace on any blockchain platform as per your requirement. Some of the blockchain networks we have worked with include Ethereum, Solana, Polygon, Binance, and many other blockchain frameworks as needed.