AI Development Company
"Innovative Future-Proof AI Application Development Solutions for your Business"
Transform your business with our innovative AI development company that will not just help you automate business processes but also attain digital transformations. Our team has deep knowledge, and understanding of  solutions, and specializes in automation, machine learning, computer vision system, and more.
As a leading AI application development company we have expertise and skills in developing unparalleled Artificial Intelligence services for enterprises, startups, and businesses related to different industries. With a major focus on quality and scalability, we can deliver innovative solutions.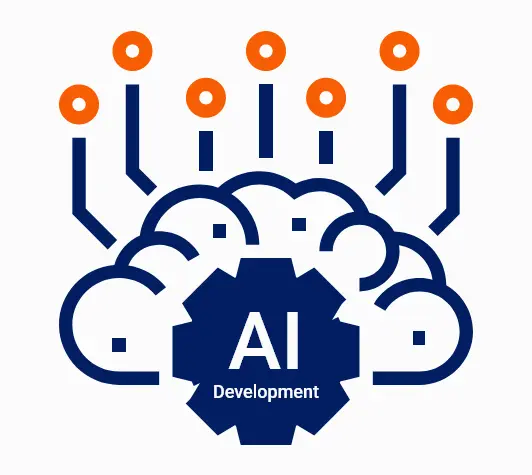 Our AI Development Company
We are the top AI development company that provides intangible solutions for businesses and industries of all kinds. Whether you want to automate your business processes or rebuild how customers interact with your products or services, we have innovative AI application development services for you. With deep learning and an understanding of machine learning, natural language processing, and computer vision, we can provide the best AI application development services. Here are the services we provide:
Custom AI Development
Our team of AI experts have the understanding and knowledge to build custom solutions based on your business requirements. Whether you require voice assistants, speech analysis, AI recommender, fraud detection, sentiment analysis, semantic search, face recognition, video & image recognition, object detection, speaker identification, or more, we are here to assist. Our custom AI application development company will help you raise brand awareness, achieve your goals, and increase productivity.
Machine Learning Solutions
As one of the best AI development company, we provide business services by utilizing machine learning algorithms that help them in taking analytical business decisions. ML makes it possible for computers to learn from data without needing much programming. Our ML experts can help businesses enhance their ongoing business operations.
Natural Language Processing
We provide Natural Language Processing services that allow machines to understand and make sense of data and put an end to the requirement to communicate in its unambiguous language for Machine Learning development services. NLP makes it possible to understand and process massive data which is Natural human language.
Chatbot Development
We are a top AI development company and have expertise in providing the best Chatbot development services. Our AI experts can build chatbots that provide highly customized interaction to enhance the customer experience. The chatbots we develop provide human-like responses to your customers which not just saves you a lot of time but also operational charges.
AI Conversational Tools
Do you need an AI conversation tool for your business? We have got it all covered for you. Our experts have the knowledge and skills, and provide you with AI conversation tools similar to ChatGPT, Bard, A.L.I.C.E, and more. With industry-leading experts in custom hybrid AI models, we can provide precision in NLP and NLU.
Predictive Analysis
Predictive analysis is what can help businesses by providing valuable perception and insights about upcoming events through useful data and statistical algorithms based upon previous data and information. Our Artificial Intelligence development services utilize historical data and information to predict outcomes as needed for your business.
Robotic Process Automation
Our AI application development solutions utilize Robotic Process Automation and create solutions that reduce the overall effort, lower the risk of manual errors, and bring more high-yielding and daily processes. Our AI development services and use of RPA allow your employees to combat daily tedious tasks, and give time to other tasks that require much time and effort.
AI Consultation & Integration Services
As a leading AI development company we have an experienced and skilled team who have proficient knowledge in Artificial Intelligence. Our dedicated Artificial Intelligence developers and experts make it possible for businesses to update their current systems, enhance their functionality, and receive top-grade services and expertise from our Artificial Intelligence consultants.
Level Up Your Business With Our Avant-Garde AI Application Development Company
As the best AI development company we strive to help businesses whether startups, enterprises, and corporations attain automation, and achieve top-grade results, get deeper insights into their business system.
Dedicated Expert Team
At SofSter we have a team of dedicated Artificial Intelligence developers and experts who have in-depth knowledge and skills to build innovative business solutions. Our experts have complete knowledge to understand your business goals and work on the intricacies of different projects to meet your business requirements.
Human Resource Augmentation
If you require more resources and assets based on your business requirements. This will help in enhancing the productivity of your business. Hire our AI developers who are highly proficient in developing top-tier solutions as needed for your project.
Maintenance & Support
We are a proficient AI consultation company that is best known for developing industry-leading AI/ML solutions. We have a complete team of Artificial Intelligence experts and developers who are highly professional and skilled at providing the best AI consultation services and solutions for all kinds of projects.
Looking for a Professional & Skilled Artificial Intelligence Development Services for your Project?
Hire Our Dedicated Artificial Intelligence Development Company
We have a complete team to meet your project requirements and provide dedicated AI solutions. Our team is highly skilled, experienced, and knowledgeable and provides custom solutions as needed. Each person dedicated to the specific AI project has the much-needed qualification and skills to work on that project and is carefully chosen based on the specific project needs.
Product Holders
We have a team of AI experts, digital product holders, and scrum managers with major expertise in various industries like finance, healthcare, education, eCommerce, and more.
Designers & Developers
Our team of Artificial Intelligence designers and developers are specifically dedicated to working on projects. Their unmatched vision and expertise are what make their design innovative & creative. Moreover, our AI developers have expertise in developing solutions.
AI Consultants
As a leading Artificial Intelligence development company we have top-notch experts and consultants who can create business strategies and provide expertise in all kinds of businesses.
Quality Analysts
With our seasoned quality analysts, programmers and skilled manual and automated testing we provide the best solutions for your business. We follow at-par quality standards and techniques.
Why Choose Our AI Development Company?
Truly we have the best team who are dedicated to providing the best industry-specific AI development services. From the initial consultation to expertise and completion of the project, we have the best dedicated team that manages it all. Get our Artificial Intelligence development services for your upcoming AI project and meet the competitive requirements.
Expert Team with 7+ years of experience
Project supervision
Strict NDA
Flexible engagement on a full-time or hourly basis
Full transparency
Cost-effective solutions
On-time delivery
Frequently Asked Question
Q. What is AI development?
Artificial Intelligence refers to the way of developing computer control robots that think and work exactly like humans. AI application development  company brings about solutions that are built by studying human behaviours and patterns and analysing cognitive processes. The result of AI application development solutions is that s develop intelligent software products.
Q. How to become an AI developer?
To become an Artificial Intelligence developer one needs to have in-depth knowledge and coding skills, and much more. Python, Java and R are the most important programming languages to learn.
Q. What is AI used in?
AI is used in voice assistants, speech recognition, predictive analysis, fraud detection, and many other services and products.
Q. What languages do you use for AI development?
Python and Java are the two most widely used Artificial Intelligence languages. The programming language used depends upon the project requirements and we are flexible in understanding and working on the language as needed for the project.
Q. What is the future of AI?
Artificial Intelligence certainly has a promising future. It is majorly going to leave an impact on sustainability, and machine learning solutions. Already there are many examples of AI that are working efficiently, for example facial emotion recognition, detecting fake products, AI Healthengine, and more.